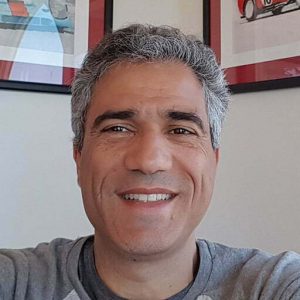 Joe Larizza is the Director of QA at the Royal Bank of Canada. He previously held support management roles with International Financial Data Services and its sister companies. His current focus is Online and Mobile application testing for banking and investment systems.
During his career, he has undertaken a number of strategic initiatives, which have earned a reputation for competency and excellent leadership ability in the field of quality assurance and testing of software.
He is the former President of the Board of Directors for the Toronto Association of Software Quality and volunteers for the Quality Assurance Institute of Canada.  
Joe will be the Ambassador of the Judging Panel of the North American Software Testing Awards 2021.
Can you introduce yourself and your current role?
I'm Joe Larizza and I'm the Director of QA at the Royal Bank of Canada. My career spanned over 25 years. I have been a board member of QAI in the States. I'm also the former president of The Toronto Association of Systems and Software Quality (TASSQ) in Toronto and I'm still an active board member there.
Being a part of the North American Software Testing Awards is fantastic. I've been testing in a running team of 200+ for a wide part of 15 years. Currently, I've focused on supplier management. So, I'm dealing with supplier relationships with different suppliers throughout our customer base and dealing with contracts and contract negotiation.
So, I've stepped a little bit away from my QE (quality engineering) and I'm now focused more on supply management. Definitely, QE is still very important for me.
What inspired you to get involved in the IT industry?
25 years ago, I was on the business side and I was always fascinated by the way we were using the technology. I took a very special interest in how we were developing the software to make our job easier. So, before I knew it, I had moved from the business over to IT to the software developers, trying to build better software for us to leverage. It just snowballed from there.
What made you want to become a judge for the North American Software Testing Awards?
It's been a passion of mine to elevate QE/QA to a level that everyone recognizes as a profession. It's a professional skill. Back in the 90s, when I started doing software testing, it wasn't seen that way. We were always a small group on the side. It wasn't very formal and at that point, I started to join various testing groups.
My goal was to get to a point where we would have a celebration as we do with the awards ceremony. We bring people together and we recognize the achievements and excellence. It's always been part of my mandate, and I tried to do that over the years.
So, as soon as it became available, I jumped on board because I see a huge need in North America.
What are you looking for in the entries? 
As a judge, I get all the entries and I look at innovation, the benefits realized, if the technique is solid. I also look at its repeatability, its rate of return, if the customer is happy with the result, what am I learning from it and what is the potential future of it. I look at it from a strategic point of view, innovation, cost, benefit, risk, I put it all together in evaluating the entries. I select the ones that are hitting all the marks.
What makes it so challenging is that all the entries have all those elements in them. So, sometimes, it's spotting errors between one versus another. It's really difficult to do and you really have to sit there and think it through. I take it very seriously.
It's so rewarding as it keeps you up-to-date. I see things that I might have overlooked in the past. I see that they are trying something here and so I can take these learnings to further advance my knowledge in the profession. It keeps me current.
What are you looking forward to the most in this year's awards?
Last year, innovation was the key. So, this year, I'm going to see who has innovated more so than last year. Some of the entries came from the same firms, putting forth different customers and different projects, so I was trying to see how they improved.
How to keep your team motivated despite challenges and hardship?
There's a lot of headway within the industry, especially from a testing perspective. If you look at it, you can see with all the new tools, processes, and tech changes that are taking place today. We are on the path of seeing the size of teams shrinking because the tools will do more. More and more robots and programs are now self-testing, and they are able to do all the works that you would have done previously. We're not quite there yet but we're on that path.
So, in order to keep your teams motivated, you have to make them understand the current tech and the trends. You have to help them figure out from a career perspective where they fit in. That's the key. Making sure that people have sufficient skills to be prepared for tomorrow's job and requirements. So, you don't fall behind.
What are you the proudest of in your career so far?
Being able to build a framework that has optimization and automation built-in as well as seeing the results from all the team put together. It was a big team effort on this one initiative.
Besides, we were able to achieve a QE cost percentage over the entire budget of less than 11%. Traditionally, when running testing projects, the budget eats up 30+% of the project funding but we were under 11%. So, that's a big achievement and we're very proud of that.
What has been your greatest challenge?
The greatest challenge over the years has been helping new people to take on the roles and train them for the future. The group of talents is getting smaller in QE. There are just fewer young people getting into the profession and the ones that do, move on. So, that's been a challenge for us and for the industry as an all.
What is the favorite part of your job?
The people. Exchanging ideas, solving problems, looking at challenges, making things better. It's the collaboration between people that is the number one. Helping people achieve the maximum.
If they can achieve success, I'm happy!
Do you have a memorable story or an anecdote from your experience you'd like to tell?
When we were actually able to all get together into the Ritz-Carlton Hotel in Toronto for the 1st North American Software Testing Awards, it was like going to a family reunion. Even though there were a few hundred people in the room, it just felt like we were all brothers and sisters, we all had the same passion.
I recognized a lot of people, and it was so amazing to get to be with your peers, talk, have fun. It was a great experience.
It was a pleasure to be there. That was our Oscar in the QE space.
Finally, do you have any advice for this year's participants?
Keep striving for excellence and don't forget to make an entry. Even if you think you're not going to win, make an entry because the competition is unbelievable. The difference between a winner and a second-place is very slim and so you have a very good chance of winning an award even if you think someone else is doing something better. Unless you try, you won't know.
Submit as many as you can, it's fantastic! You'll keep the judges very busy but it's a pleasure for us!
Participate in the Awards HERE.